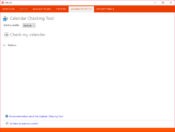 OffCAT, or Microsoft Office Configuration Analyzer Tool, is a helpful tool that will help you detect potential problems or issues in Microsoft Office programs and fix them.
When you install a Microsoft Office pack, you'll see that you'll have to go through a series of configurations and settings. It can be tough for beginners, especially if you don't have a manual to follow.
And the result is that there might be some wrong configurations which might cause the Microsoft Office programs not to work correctly.
With OffCAT or the Microsoft Office Configuration Analyzer Tool, you'll be able to detect misconfigurations with Office programs. You'll get help content along the way, making the experience easy and simple, even if you're not an experienced computer user.
Easy to Use
OffCAT is easy to use. Even if you're a beginner and you don't have experience in IT, you'll be able to use most features inside this application.
It will provide you with scans of the Microsoft Office programs to detect potential discrepancies and potential problems arising with these tools, which can cause some performance issues.
Detect Problems and Fix Them
When you open the tool, you'll see that it has a relatively simple interface. The main feature you'll use is the "Start Scanning" button, which will start scanning your computer and detect and potential misconfigurations with your Office programs.
The scan will depend on the program's size, and the remaining time will be visible, too.
After the scan is done, you'll get a report where you'll be able to see what could be wrong. The app will then give you potential solutions that you can try to fix the detected problems.
You can arrange these reports according to their class, severity, and issues and export these reports and use them for future fixes.
Conclusion
OffCAT is a useful program that will help you detect potential problems with your Microsoft Office programs and provide you with fixes for most of those issues with its user-friendly interface.