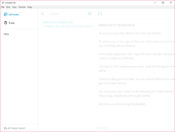 Simplenote is a straightforward app for taking notes that you can disperse and synchronize and different types of media and devices and use them across your arsenal of devices easily.
Taking notes is one of the most effective ways to memorize things. Working with data or with any other thing can sometimes be confusing, as there might be too much information for us to remember easily.
That's why we take notes. But sometimes, taking notes on one device is not enough – we want them to be available for use on a variety of devices.
That's what Simplenote does. It allows you to take notes easily, and then disperse those notes through a variety of different devices you may own. You can take notes, create to-do lists, write your ideas down, and also your thoughts. Then, you can simply share and synchronize these notes to other devices of your choice.
Share Notes with Others and With Your Other Devices
There are many note-taking applications out there, but one area where many of them lack is the sharability of notes. With this tool, you can easily create notes and memos, share them with others, or synchronize them with your other devices.
Sharing notes with others is made easy because you only need to copy the link of the notes you create and send it to others. Alternatively, you can share the notes via emails that you can send to other people. This is crucial if you're working on a project with a team or with a group of people who will find these notes useful.
These notes will also be available to you on your other devices, as long as you have the link to the notes stored somewhere or shared through your email account.
Integration with Other Apps
Other apps can also be integrated into this program, which is useful for being able to use the app for other means, too.
Not all apps are integrated, though, so you need to check on the developer's website, which ones are.
Conclusion
Simplenote is a great note-taking app that allows you to share your notes with others and use them on a variety of devices.