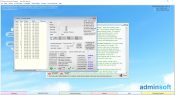 Adminsoft Accounts is an all-in-one software application for easily keeping track of one's business. It allows you to manage human resources effortlessly and efficiently, as you can create company profiles, add or edit users, and add them to the database.
Also, it provides additional details about your customers, suppliers, stock items, and other information about your business.
Create New Company Profiles
With Adminsoft Accounts, you can create new company profiles by specifying the company's code, name, address, or telephone number. You can also add details about the business, such as the fax number, VAT number, URL, company country, e-mail address, and other useful information.
There are also additional settings that allow you to have full control of your business. These include adding notes and specifying the start date of the financial year, number of periods, and account period type.
From a Small Business to Small Businesses
Adminsoft Accounts is a free-to-use accounting software mainly meant for smaller companies' accounting needs. It comes with an offset, which means you'll have to accept the ads if you select the free option.
There are also four other pricing options: $259 for a single user per year, $479 for three users per year, $699 for six users per year, and $919 for ten users per year.
Set Up User Profiles
This software application allows you to manage individual and new users, too. You can create a new user profile by adding their ID and name. Managing users is easy too.
There's the option to set up passwords for each user, and you'll also be able to allow the users to log in and perform backups. Additionally, there's also the login restriction function.
You can print the list and keep it yourself when the list is complete. And as it is an accounting tool, you will be presented with various useful tools to help you manage taxes.
It includes the design of account period functions, payment methods, TVA codes, rates, payroll taxes, and cash and bank accounts. It makes it a complete accounting tool for a business.
Supplier and Customer Management
This utility also takes care of your management of suppliers and customers. It is done by adding or creating information about suppliers and customers. These include contract diaries, prices, sales analysis codes, invoices, credit notes, and other useful tools for managing your suppliers and customers.
Another great tool that this application allows you to have is the general ledger function. With it, you can manage and control your banking details and view various banking reports.
Plus, there's the option to add data about personnel resources and employee details.
To Conclude
To conclude, Adminsoft Accounts is a reliable and free-to-use accounting solution for smaller businesses. It's very lightweight and has several advanced and simple features.