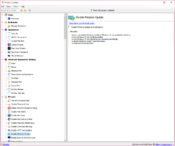 Whether it is the appearance of the operating system or the functional benefits, you can make changes in them according to your needs with the help of this Winaero Tweaker.
The intuitive user interface makes it easier for users to access different features. Additionally, the characteristics of the application are also organized, giving another reason for the user-friendliness of the application. However, the significant number of features available in  this app requires you to explore it and find the ones that you like. The settings once changed can quickly be reverted through the reset options so you can explore the app freely.
Horizontal and vertical spacing of the icons, colors of the title bar and selection of the custom accents are amongst some of the features that Winaero Tweaker can cover for you. There is a broad range of features that can help you in customizing your operating system fully.
You can restrict your computer from accessing the store. Similarly, protecting your computer and applications with a password, enabling and disabling the administrator account are also some of the features that you should be expected while using it.
Winaero Tweaker allows the aesthetic and functional changes in your operating system that can make your experience of using a computer better and more enhanced.