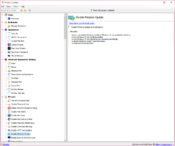 If you're looking to tweak your current OS version, you have some options directly in the library of the OS. But this library can sometimes feel limited. If you're serious about making real and tangible changes to the OS, you need to consider an additional application that will allow you to do this.
One of the best such applications is Winaero Tweaker. It allows you to make large-scale changes to the OS without needing too much knowledge and effort. You have all the features available to you in one place.
This app can be a great resource if you want to make real changes to the look and feel of your OS.
Easy to Use
One of the best things about this app is just how easy it is to use. The intuitive user interface allows you to make great changes to the look and feel of your operating system without putting too much effort into the work.
You can access all of the capabilities of this app through a variety of configurations inside the app. You can change the appearance of the OS, affect the behavior, and access the boot and logon options and features.
Plus, there is the context menu feature where you can directly change the context menu easily.
You can reset everything to default at any time, so you don't have to worry too much about getting caught up in one setup you create.
Make Visual Changes
There are so many changes you can make with the app that we won't be able to cover everything in this description. At the start, you can choose the theme of your OS. One of the most popular choices is the Aero Lite theme, which is the default by many people.
You can also change colors and other minor details regarding visual appearance.
Conclusion
Winaero Tweaker allows you to make large-scale changes to your OS. Tweak your OS by making small and large changes to the interface and affect its behavior to make it suited to your taste with this intuitive and straightforward application.