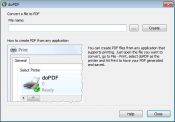 doPDF is a popular PDF tool that lets you turn any printable document into PDF format and customize various aspects of the application, such as page size, unit type, resolution, scale, and others.
If you need to work with various documents and turn them into PDFs, you might need to use a tool like doPDF.
It's a widely used tool for converting files into PDFs, which is suitable for almost any type of printable file that you might own.
It's a simple tool, but it does have some additional features you can use after conversion.
Works with MS Office or Standalone
If you use MS Office for most of your documents, then you'll love that this application can be used as an add-on for MS Office.
But if you don't use it or if you don't want to have it as an add-on, then you can use it separately too. If you opt for that, it will appear when you pick "Print" on almost any file you have.
Configure and Convert
Of course, this application's main purpose is converting files into PDF format. When you need to do that, this application will offer you a very simple and easy way.
You'll only need to import the file into the application and start the process. Of course, there are also several settings you can configure.
You'll be able to select the page size when you open it up, choose the unit type (such as millimeters), and you'll also be able to configure graphic details. These include the resolution of the document and scale.
You'll also be able to set the orientation of the documents, as you'll be able to choose between landscape and portrait, for instance.
Simple and Easy to Use
Another advantage of using doPDF for conversion is that it has a simple interface, especially if you use it as a standalone tool.
At the same time, it won't use many of your computer's resources when you work with the tool, which is important if you have an older computer.
Conclusion
doPDF is a user-friendly tool for converting almost any printable file into PDF format and then printing it without any problems. There are also many configuration settings in the process.