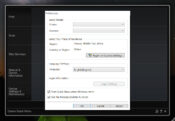 Canon Quick Menu, or rather a tool, has been developed by Canon. It's meant for Canon users who have several different pieces of equipment produced by Canon. And when you buy a new device from Canon, you'll also get additional resources, such as other applications and manuals.
Keeping these devices organized can be difficult, though. If you have too many, you might get lost and not know exactly where they are located. What you can do instead is to download the Canon Quick Menu tool, which will ensure that all the supplies by Canon will be in one place – whether that's applications, manuals, and other resources provided by Canon.
Control and Select the Devices You Want to Use
Installing this tool is very easy. It will take only a few minutes to complete the installation. You can then manage this tool from the system tray. Once you click on the tray icon, it will open the tool's minimalistic interface or control panel.
In this control panel, you'll see all of the apps and manuals you currently have on your computer by Canon. You can even create photo slideshows you've created with your devices, which is done by pressing the My Image Garden icon. You can display these images and create slideshows.
You can also select which device you want to use at the moment. This feature is handy if you have several devices produced by Canon and want to work with one specifically.
You'll see all the software applications and the manuals you installed for this specific device.
Conclusion
Canon Quick Menu is a centralized management tool that will help you organize your Canon programs and applications in one menu and start the manuals that have been supplied with printers easily.