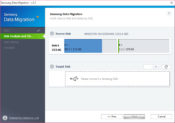 Are you upgrading your data from the traditional hard drive to the solid-state drive? Then using Samsung Data Migration can be of great help in transferring data from one location to another at a much faster speed.
Samsung Data Migration works by cloning the data of your existing hard drive to the Samsung hard drive. However, the recovery partitions will not be cloned and thus will not be transferred to the new drive. Similarly, the hibernation data stored in the hard drive and the page file will not be moved.
This application is helpful in converting all your data from the ode hard drive to the newer one without being necessary to reinstall Windows. It can help you save your time and get all the data files and applications in the same manner as you had been using.
One of the limitations that can be faced while using this application is that you might need to delete some of the data files as the Samsung drive might not take up all the files and information because of the comparatively smaller size of the solid-state drive to which the data is being converted.
Overall, Samsung Data Migration is a fast tool for converting all your data and information from the traditional hard drive to the new solid-state drives.