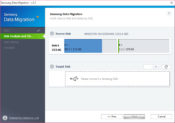 If you have a brand-new Samsung SSD, you might be looking for a way to transfer files and data from your old disks to your new one.
A good app to use in this case is Samsung Data Migration, which will help you migrate files and data to your SSD effortlessly.
Clone the Disk or Partitions
Cloning your disk or partitions of your drive will be one of the primary tasks of this application. With this feature, you'll be able to configure how your disk is partitioned or split so that you can easily transfer your files or data to the drive.
It will make it possible to transfer your desired files.
After you've done setting up the application and how it interacts with your drive, you can start the transfer of your files. First, you can choose which files you want to transfer to the selected parts of your drive.
You can transfer files such as movies, videos, images, and other data types that you need to transfer.
Migrate Your Data and Files
This app is mainly made for Samsung SSD owners, so if you have such a drive and you're looking for the quickest way possible to transfer files to your drive, this tool can come very useful.
It allows you to migrate larger files and data to your SSD without compromising your computer's resources.
You can also select which type of transfer you want to make. For instance, you can use a USB drive or transfer via SATA cables, which will make the process faster.
Usually, the more files you transfer, the more of your computer's resources the tool will take, which is to be expected.
Conclusion
Samsung Data Migration helps you transfer files to your Samsung SSD easily and quickly, as you'll be able to move all types of data as quickly as possible.