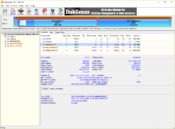 You can try Disk Genius which was created especially for managing your hard disks with ease. It has a lot of features which you may find useful, and the interface is easy to understand.
When you have a PC, you have to take into consideration all of the things that are installed on it and keep them running well. It is important to take real care when it comes to your hard disk, and this is why you need the right tools to do so.
It won`t be an issue to check for disk errors, and you can also do other different tasks with this tool. The Recovery option can be used to recover the files you want and thanks to this function it is easy also to recover or even restore a lost partition.
Disk Genius features and benefits:
recover deleted files or partitions, data from corrupted partition, RAID and virtual disks
resize, extend and split partitions
clone and image disk and partitions for data protection
check and repair bad sectors

wipe hard drive data

convert dynamic disk to basic
view hard disk info