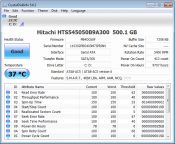 CrystalDiskInfo was developed to meet the requirements of hardware enthusiasts around the world. The developer created a tool that tells you almost everything there is to know about the hard disk. Within a sleek and modern interface, an impressive number of functions appeal to the eye.
With the rise of cloud storage, hard drives and SSD drives are getting less and less used. However, they're still as reliable as they were a few years ago, and many users worldwide always use these as their primary means of storing data and files.
However, this also means ensuring that these drives work and should be one of their priorities.
To help you with that task, you can use an application like CrystalDiskInfo. This application was designed to help you keep a close eye on your hard drive and your SSD drive.
It will give you all the crucial reports and information about your drives, which can help you gauge whether your drives need to be repaired.
View Details of Your Drive
The main purpose of this simple utility tool is to give you information about your drives. First, you'll need to install it on your computer, a relatively simple task to achieve.
You need to unpack the archive and run the executable file to get started with the installation, and then you're done.
When you open the app for the first time, you might notice that it will automatically detect the drives you have and provide you with some elementary information about the two.
You will see data like reading error rates, start/stop count, end-to-end errors, command timeout, reallocation events, and raw rates.
Keep Your Drives Ticking
It is an important piece of software for everyone who wants to ensure their drives work as well as they should.
It will provide you with all the necessary information to help you make sure you run it as well as you should and that you get the most out of your drives, even if they're older.
Conclusion
CrystalDiskInfo is a great tool to use when you want to analyze your hard drive or SSD drive and ensure they run as well as they should.