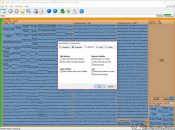 SpaceSniffer is a utility to help users understand how their files and folders are structured on the hard disk. You can quickly visualize where large files and folders reside and locate objects that are taking up unnecessary disk space. The software was developed around the Treemap concept and visualization layout. Let's see what you can do with this tool and why you should download and use it periodically.
Starting a scan is as easy as pressing a button. Once the scan completes, you can visualize the files and folders on your hard disk drive and quickly locate large items. If you need to see the contents of a specific folder, you just need to click it once.
Valuable details are listed immediately. Double-clicking a folder zooms on it and displays its content along with a host of other details. You are able to filter the results by file type. For example, to see only AVI files (movies in most cases), you just type .avi into the Filter field. To exclude some file types, type *.avi‹ into the Filter field. It is difficult to remember which files and folders you have examined when looking at the entire file structure of your hard drive.
This is why you can quickly tag elements you have viewed so that you always know you've analyzed them. You can choose from four colors for tagging (red, yellow, green, and blue). For example, you can tag suspicious items with red and other files and folders with green.
You can filter using the colors you used to tag items. For example, to display only red items, type :red into the Filter field. Another nice feature is the ability to filter the data after its age. Do you need to see if you have files older than three years? No problem ' just type >3years‹ into the Filter field. Need to find all files that are larger than a given size? No problem just type *.avi>600mb into the Filter field. SpaceSniffer comes with a very useful Export Module. You can use it to export reports in text format for later use.
In addition, you can customize the layout and content of these reports and you can take it with you anywhere on a flash drive because it doesn't need to be installed, unlike other tools.