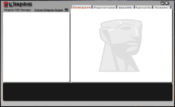 Optimization of Kingston Solid State Drive is possible through the Kingston SSD Manager. Status, health, and SSD disk usage are some features that you can expect to manage through this application.
You can get to know the details about your drive using this application. Whether it is the model of your drive, operating system, or the details about firmware, you can get to know all of them using a few clicks of your mouse.
If you use more than one Kingston SSD device, you can switch between them and adjust their settings accordingly. Knowing more about the disk partition, overall health, temperature, power usage, etc., are the features you can expect from Kingston SSD Manager.
Bad block count, fail count, and erase fall count are among the health attributes you must expect to handle through this application.
However, one of the aspects that you must consider here is that Kingston SSD Manager works with the DC 400 series of drives. If you possess a different one, it might not help generate the best results for you.
Kingston SSD Manager is a drive manager which can allow you to analyze and optimize the performance of your Kingston Drive.