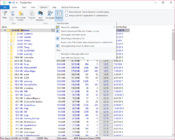 TreeSize will give you accurate information about your folders, as it will analyze the folder size and how much disk space it takes up, allowing you to see the dimensions of the files inside folders.
Managing your disks and drives is one of the more important tasks on your computer; you don't want to run out of space, but you must know the sizes of your files to help you do that. But one of the big issues with Windows is that you can't see the dimensions of folders and the files inside them.
It's a portable product you can install anywhere on the go, letting you see the size of folders. It will give you better control over your folders and a better idea of how much space your folders take up.
See Folder Sizes
When you first install TreeSize on your computer, you'll see that it will embed right into the Windows Explorer interface. You'll be able to toggle the feature on or off in the top portion of the interface.
Right-clicking on a folder will open up the TreeSize menu, where you can configure views and other things about it.
The most important things that this tool will let you quickly see are the allocated path of a folder, size, length, number of sizes, full path, directory level, owner, and more. You'll also be able to open up a new folder, sort it by name or size, scan volumes or directories, or perform other actions with the folder.
Simple and Easy
It is also often praised for its relative simplicity and high effectiveness, despite its managing to bring so many features to the table.
Installation is simple since you can easily deploy it. The app is portable and doesn't compromise your computer's performance.
Conclusion
Thanks to TreeSize, you can see which files are taking the most storage space on your PC, and you can make the needed decisions to free some space.