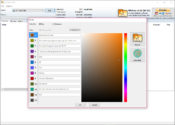 WizTree is a simple and intuitive application that will scan your hard drive and folders to identify areas where you can save space, which can help you optimize your HDD space.
Manage Files With Ease
Too many files on your computer's hard drive is a common problem. You keep downloading files, but we often forget about deleting the files we never need. Over time, these files can clog up our hard drives and take up valuable space necessary for other files.
That's when you need a good solution to de-clutter your hard drive.
With WizTree, you'll be able to easily identify which files are clogging up your hard drive and see what files exactly you have on your drive in a more organized way.
You'll be able to see the files in a tree view, where you'll see clearly which files are the largest and see the files according to various other parameters.
View and Organize Files
It's crucial to have some organization when it comes to viewing a large section of files. You'll be able to see the files more organized thanks to the interface of this utility that lets you sort the files according to their size.
You'll also see how large these files are, how much space they take up, and which files can be deleted to save more space.
You can also view and sort these files by KB, MB, or GB. You can also open a new instance of the Command Prompt window, which lets you easily take action if you want to delete these files.
The app also allows you to recycle files or send the selected files to the Recycle Bin, where you can delete them later.
The application runs smoothly, and it doesn't consume many resources on your computer. It lets you get the most out of this application, even if you have an older computer where hard drive management is even more important.
Conclusion
WizTree is an application that helps you scan your hard drive and identify which files are unnecessary to save more space.