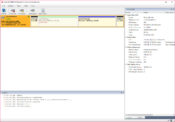 If you want to keep your hard drive secured from intrusions even when you get rid of it, you should use KillDisk. It can facilitate your computer's hard drive cleaning and makes the process easier to manage.
You can be assured that the files you have deleted will not be recovered by any other user, even if a deliberate attempt at file recovery is made. This application lets you get a hierarchical view of everything on your hard drive, knowing which files are stored where and what is being deleted.
You can even get your hard drive files in DOS mode. The binary form of data can also be generated if you want to handle the entire data on your disk in that form.
The interface is good enough to keep you interested in the software and explore its various features. Additionally, premium features are also available for KillDisk. These features ensure that the security of your data is not compromised in any way.
KillDisk is an excellent solution for cleaning your hard drive up, especially if you sell your computer. Using it can tighten up the level of security that the free version provides.