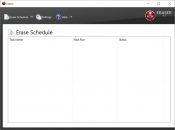 Eraser is a tool to use when you need to permanently delete files from the computer. And by permanently, we mean that this software not only deletes the file and marks that place on the hard disk as free to let another file be overwritten, but it also encodes and shreds files that compromise your privacy.
In this way, you will be fully protected, as no traces whatsoever will ever be detected.
The scheduler also comes in handy thanks to its highly customizable functionality. Preventing access to sensitive data is done by overwriting files several times in a so-called advanced pattern.
Here are some of the features and reasons that Eraser stands out in the market today:
Schedule Multiple Tasks
If you have a lot of files to go through, it doesn't make sense to erase them individually. Instead, it would help if you had a way to batch them. You can make the program schedule many different removal tasks at once.
The program's efficiency comes largely from data removal, combined with the fact that it overwrites the data numerous times using various algorithms.
Interface
When we review software, the interface is one of the first things we look for. It helps us determine whether or not we would enjoy using the application. So, luckily, it seems to fit the bill in that category.
The interface is fairly easy to operate. You need to set up a schedule if you want data gone for good. You have different options for this.
You'll want to run the task manually, on restart, or immediately.
Numerous Algorithms
There's nothing worse than an app that locks you into one way to do things. Eraser has many options. It is good because the application's method of erasing your files is the most important.
With 13 tools, you can remove data in whatever way suits your needs. Just choose the one that aligns with your goals, and you're ready to go.
Time Allocation
No one has all day to wait for an application to finish. However, if you can get other things done in the meantime, it does make more sense.
This utility does need some time to delete the files. However, it's not much of a downside. This way, you know that your data is being deleted properly.
We would much rather wait a little longer and know the job will be done right rather than end up with security vulnerabilities elsewhere.
In Summation
Eraser seems to be one of the better cleaning tools on the market. It's incredibly easy to use. It offers you a variety of erasure methods.
This way, you can select the one that aligns with your data needs. Finally, while it does take some time to complete the processes, it does a stellar job. It ensures that your files will not fall into the wrong hands. And that is some security that everyone needs in this day and age.
Have no fear that anyone else will be able to recover data from your storage device. Eraser won't let you down.