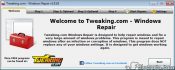 Windows Repair does exactly what the name says. Thus, it can solve many problems that one may encounter during daily Windows use. Even if in its infancy, the program can fix registry errors, file permissions, and several other issues.
Whenever a problem occurs within Internet Explorer or with the integrated Firewall or the Windows Update feature, this software can automatically bring you back the lost functions. The extensive list of repair options is integrated into a simple interface that makes everything enjoyable.
You are also given some info on that specific problem and a final log. The antivirus needs to be disabled before starting the repair procedure.
Windows Repair features and benefits:
Reset Registry anf File Permissions
Register System Files
Repair WMI
Repair Windows Firewall
Repair Internet Explorer
Repair MDAC & MS Jet
Repair Hosts File
Repair Winsock & DNS Cache
Repair Proxy Settings
Remove Policies Set By Infections
Repair Icons
Remove Temp Files
Unhide Non System Files
Repair Windows Updates
Repair CD/DVD Missing/Not Working