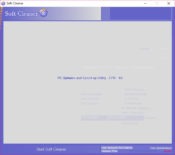 Is your computer working too slowly? To improve its speed, you'll have to remove the extra files that take up space on your computer.
Executing this operation by hand is time-consuming, and you might not access every temporary file that is not required by your computer anymore. With Soft Cleaner, you can automate this process.
It scans your computer and figures out the files which are temporary and have been outdated.
The application interface is slightly different from the other applications available for this purpose. That is why you might have to figure out the controls and all the relevant buttons that can help you perform the scan and remove the extra files.
There are limited options provided by this application too, but you cannot change many of the settings because it has been designed to serve the basic purpose of the users.
Additionally, the options in the application come with a unique floating menu, which might seem awkward to first-time users. However, it fulfills the basic needs of the users.
Soft Cleaner allows you to scan your computer for outdated versions of temporary files. By deleting these unrequired files, you can get a faster-working computer.