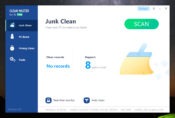 Do you have too many junk files and insufficient computer space? Then you can use Clean Master for PC, a powerful cleaning app that will help you remove junk files, uninstall unused programs, and protect your privacy by deleting spyware.
Too many files you don't use on your computer cannot be good for your computer's health. In the long term, this can affect your computer's speeds and how well your computer works. But you also lose valuable space on your hard drive if you don't optimize your files properly.
If that's the case with your computer, you can use an application like Clean Master, which will help you remove all unneeded and unwanted files from your computer.
It includes junk files as well as programs that you don't use. It will also help you remove traces of uninstalled apps and make sure no programs are spying on you.
Clean Up Junk Files
The application has a rich set of features complemented nicely by the user-friendly design. It has many nice features neatly organized within the interface, and you can select most of them from the main window.
The most important function is the "Junk Clean" function. When you select it, you'll start a complete scan of your computer to identify where you can delete files and save space.
It includes your registry junk, Windows files, browser files, and other unnecessary and considered junk.
Secure Your Privacy
At the same time, the application can take care of your privacy. You can eliminate several programs and features that may compromise your privacy, such as downloads, apps, multimedia history, etc.
If you select the "PC Boost" function, you will focus on the computer's performance. This process should be a bit faster, as it will help ensure your programs are as optimized as possible.
Conclusion
Clean Master for PC is a powerful tool to keep your computer clean and free of junk files and spyware.