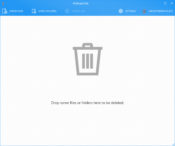 As its name suggests, Permadelete is a tool that allows you to delete files permanently. The standard deletion of a file in the Windows operating system does not mean other people cannot recover the information until additional information is written to the same disk sector.
In contrast, with this utility, this risk no longer exists. The deletion of the files is irreversible, and the information is erased forever without being able to be recovered.
The interface of the application is simple and friendly. You must drag the file or directory into the application window and confirm the number of overwrite steps the application will perform to clear the data.
In conclusion, Permadelete is an efficient application that allows users to delete data without worrying that someone else might recover it.