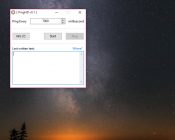 PingHD is an open-source software application that will prevent inactive hard drives from going into auto-sleep mode. Many people use multiple hard drives, and if you're like that, you know you won't be using all the hard drives simultaneously.
And when that happens, only one of your hard drives might be in use, causing your other hard drives to go into auto-sleep mode. To prevent that from happening, you can use this utility. It can help you lose valuable progress with your work.
No Installation Required
PingHD is a very lightweight tool. You won't need to install it on your hard drive. Instead, you only need to start and tune it up correctly to function properly. You will waste no time setting up your hard drives and preventing them from shutting down.
You can set up the ping frequency from the app's main window in milliseconds.
It will create a process that continuously adds text to a writing file, automatically preventing the hard drive from entering sleep mode.
Use it at Startup
The best way to use it is to start at startup to prevent the hard drives from entering sleep mode. The app will begin independently without you needing to set up the application for all instances.
One thing to note is that you might need to set up the app for each hard drive by copying the executable of the application to the hard drive's location and running it from there.
You might find that you will have several instances of PingHD running at the same time if you decide to use it on several hard drives.
Simple Interface
The PingHD interface is free of clutter and only provides you with essential functions. If you need to have your hard drives efficient and running smoothly, you want to prevent them from entering auto-sleep mode. It allows you to achieve that easily.