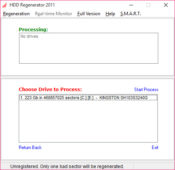 Are you willing to manage the bad sectors of your hard drive within moments? This powerful application can help you with it. By using HDD Regenerator, you can find the sectors of your hard drive that are damaged permanently and recover the data stored in them.
Beginners and experts can manage using it without problems because of its simple interface to help users.
However, you will have to spend a lot of your time in this process, as HDD Regenerator requires a complete scan of your hard drive before the regeneration process of lost data can be initiated. Once this application has detected any magnetic or physical damage, it starts the data recovery process.
Additionally, it works equally well on hard drives that are not partitioned or formatted so that you can use this utility in any condition of hard disk damage.
HDD Regenerator is an efficient tool to scan the bad sectors of your hard drive and ensure the recovery of data stored in these sectors.