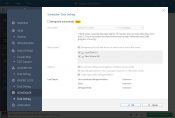 Auslogics Disk Defrag is a reliable and richly featured defragmenter for everyday use. It runs in the background and doesn't consume too many resources.
One of the most important things on your computer that you'll want to take care of is the integrity of the files on your drive. You'll want to make sure they work as intended, or else you cannot use all the features of a certain program.
You'll also want to defragment files if you move them to another location without ruining the integrity of these files.
This defragmentation tool enables you to check errors on your drive and defragment your files.
It can be viewed as a more advanced application, but once you get used to its interface, you'll see it's not that complicated.
Lightweight App
You'll be pleased to learn that Auslogics Disk Defrag is a rather simple app at its core. You won't be using as much of your computer's resources as you use this application.
You can still work on other projects at the same time in the background, although you'll be using this app at the same time.
Defragment and Check for Errors
Two of the most commonly used features of the tool are the defragment tool that you'll be able to find inside and the ability to check for errors.
With this, you don't compromise on the quality of your files as you move them around, which ensures that you can transfer system files, for instance.
You can also check for errors on your drive to make sure the drive is safe to use. Moreover, you can schedule these tasks almost any time you want, as you can run them at your desired times.
Conclusion
Auslogics Disk Defrag is a simple yet powerful tool for defragging your files and checking for errors on your drive to avoid them.