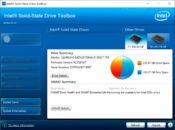 If you need to evaluate the performance of the Intel Solid-State Drive, you can utilize Intel SSD Toolbox for this purpose. It helps you in the evaluation of the performance of your SSD. The usage of this application is not complicated.
It can detect all the SSD connected with your computer on its own once you'll install this application. All the information relevant to the Intel SSD is at your disposal, including the model of the drive, storage capacity, firmware version, available capacity, and all such information.
Moreover, you can also have the operational information relevant to your Intel drive. The drive configuration, information about the transfer modes, serial ATA, PIO Cycle transfer time, along with the info about cache and its writing and reading speed. With all this information, you can expect to optimize the performance of the drive.
You can even set your SMART parameters for evaluating the health of your drive. However, there are some parameters already defined in this application. Based on these parameters, the drive's health and the functioning period can be determined quite easily. Mostly, these results are accurate so that you can rely on the application for this purpose.
There are two types of scanning options available to you while using Intel SSD Toolbox. You can either run a quick scan to have an overview of your Intel SSD. Or you can go for a full diagnostic scan. This type of scan can figure the bad sections of your drive.
It can also allow you to delete the data and even upgrade the firmware of the drive to maintain effective performance. A built-in tuner for improving performance is also a possibility when using this application to optimize your drive.
Intel SSD Toolbox can gather the relevant information for your Intel drive and provide you with an opportunity to optimize the performance.