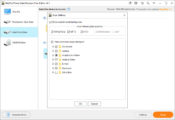 MiniTool Power Data Recovery is a helpful tool that will enable you to recover files you might have lost or deleted from your hard drive.
If you have lost files from your disk or hard drive, you might want to recover them if they have been lost involuntarily.
MiniTool Power Data Recovery can be extremely useful in case of data loss. It will help you recover files you've lost or that might have been deleted from your drive.
Scan for Lost Files
The first thing you'll want to do when you want to find the file you've lost is to scan your drive to help you find them.
The scans will take some time, but you can choose which drive you want to scan. Depending on the drive size and the scan, it can take quite some time to complete.
With these scans, you can find your lost files, and then you can start the recovery if you wish to get them.
You might find that the tool sometimes won't find the files you've lost through the scanning process, but that is rare, and the tool is often very effective for recovery.
Recover Lost Files
If you've lost your files and want to have them back, then MiniTool Power Data Recovery can be a real lifesaver. When you select the files you want to recover.
You'll also be able to use the filtering tool to help you locate exactly which files you want to recover with a bit more precision.
Overall, the recovery process is highly efficient. It protects your files from data loss, which can be a nagging issue sometimes with such recovery tools. In addition, the process is largely automated, so you won't have to do much throughout the process.
You'll only need to select which files you need back.
Conclusion
With MiniTool Power Data Recovery, you can get your files back quickly and easily, thanks to the effective recovery process initiated by this tool.