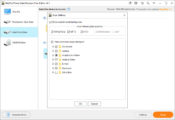 The accidental loss of data is something that we all regret but not anymore. MiniTool Power Data Recovery is the software that can help you get access to all of your lost data with just a click.
There are no specific situations in which this data recovery software will work; instead, this tool is helpful in all the cases. Whether you have deleted the data intentionally or unintentionally, formatted the entire data, or even faced data loss problems because of problems in your storage drive, you can now get all of your essential information back. This tool is also helpful in virus attacks or disrupted hard disk situations.
MiniTool Power Data Recovery can support different devices very quickly. It is not only a good solution for data recovery on computers, but removable disk drive, CD/ DVD drives, and hard disk drive can also utilize this software for providing you with the ease of data recovery.
Nearly all the data files can be restored using this excellent software. Some of the specific formats supported by MiniTool Power Data Recovery are DOC/DOCX, XLS/XLSX, PPT/PPTX, PDF, CWK, HTML/HTM, INDD, EPS, etc., which covers the documents, images, videos, audio, and emails.
The data recovery through this application is just a three-step job. These include selecting the device to scan, scanning the target device, and selecting the files you want to save. Through these simple steps, you can get your entire data back.
One of the essential points that must be highlighted for this software is that it is entirely free. You don't have to purchase it for downloading. You can get it online and download it to your PC to get the best results.
This tiny but marvelous MiniTool Power Data Recovery utility helps reduce critical failures by providing a sense of security regarding your data as you can recover the losses in all the formats and all the situations.