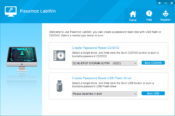 PassMoz LabWin is software that aids you in resetting your Windows login credentials, including your password. It means that you don't need to reinstall the entire system.
If you have ever lost your login information, you know how frustrating it can be. You might spend hours guessing what it is, only to find yourself locked out.
No Need to Remember Passwords
In today's world, we all have much information to memorize. It includes your passwords for various applications, websites, banking, etc. No one can blame you for forgetting this data.
However, forgetting the password to log in to your Windows machine can be a huge hassle and a headache. You might need that vital information for more than one reason.
Perhaps you must complete a work project that is due soon. You might be trying to reach friends or loved ones online. Or maybe you had valuable data stored on your machine, and now you're terrified that you won't be able to retrieve it. PassMoz LabWin is designed to deal with this exact problem.
Here are some of the key features of this software that you should know about:
Reset Windows Login Credentials
Sure, you could try various workarounds before using something like this. But if you can skip those steps and recover your login information, it will save you much time and frustration.
You won't have to reinstall your system at all.
Visual Design
The application has nice aesthetics, especially for the functions that it provides.
It is always pleasant to see, as it doesn't need to be ugly just because it's useful.
Easy to Use
When we were testing this software, we found it intuitive and user-friendly. You don't need to be a technical expert to operate it.
There will be simple, step-by-step instructions that you follow. Once you complete the steps, your password can be reset.
Only Requires One Type of Drive
You can create your password if you have a DVD, CD, or flash drive. The first step is, of course, installing the software on your PC.
Then, pick the drive you want, and it will become your new reset disk.
Boot from Drive
In the BIOS, enable your computer to boot from the drive you have decided to use. You will see the software open up on your screen.
Every account that you own on your computer will be visible. Just click "reset" and then you can change your credentials.
In Conclusion
When we look at Passmoz LabWin, its variety of features makes it incredibly useful for resetting your Windows login password. You can easily boot it from a flash drive or DVD.
Then, by following the step-by-step instructions, you are ready to reset your credentials without losing all your data.
Because of these features, we highly recommend getting an app just in case, even if you don't need to reset your password.