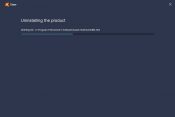 Avast Clear is a helpful application that will help you remove and uninstall any Avast programs and traces on your computer when you cannot do that on your own.
When you want to remove applications from your computer, debris and traces of the applications are left on your computer. These apps will leave traces that can consume the space on your computer, but they can also affect your computer's performance.
That is why you want to remove them as often as possible.
Avast Clear is one of those applications that will help you remove all the traces left behind by Avast software in general. It will help you make sure there are no traces of these applications left on your computer and that it's free of the debris that gets left behind by Avast applications.
Remove Avast Traces From Your PC
Avast does have some good security applications, but removing these is no easy task. These are known to be especially stubborn to remove, especially because it tends to leave traces and debris that's hard to find and remove.
With Avast Clear, you will have no problems eliminating these traces because it will find them automatically for you.
It will make your life much easier when you want to remove all of the traces left behind by the Avast applications. It can save quite a bit of time, but it's also user-friendly to use.
It will most of the time work automatically, as you only need to specify which applications you want to remove completely.
Supports Various Avast Versions
Avast comes in different versions, and this application will support various applications that you can remove. You can remove all of the Avast home and professional packages, as well as its server editions.
Conclusion
Avast Clear helps you remove all of the traces left behind by Avast applications on your computer, allowing you to save space and remove the unwanted traces from your PC.