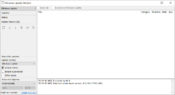 Windows Update MiniTool is a reliable and small application that enables you to install or remove Windows updates you've just installed while also hiding some updates that might be available.
Windows updates can be useful when you want to upgrade your operating system and find security updates and various features that come with new updates.
Sometimes, however, you might want to revert to another Windows version for various reasons – you might like some particular features or simply because you don't want to install them yet.
To help you with managing Windows updates easier, you can use Windows Update MiniTool. This app was designed to help you schedule, postpone, remove, install, and hide updates at free will, giving you full freedom of when or if you install new Windows updates.
You can also download and install them as they become available with this tool.
Portable App

The first thing that's worth mentioning here is that this application is portable, which means you don't have to install it at all.
You only need to deploy its executable file, which you can launch from your hard drive or USB drive. It means that you can take this file with you anywhere you go.
Schedule, Remove or Install Windows Updates
This tool works with Windows updates. It will enable you to scan for new updates and find them and then install them if they're available.
You will have two options for new updates: you can download them and then install them, or schedule the download for a later time and then the installation, too.
You can also tailor the behavior of the automatic Windows updates. For example, you can postpone or stop updates from happening, which is neat if you don't want Windows updates to happen automatically.
You'll get notifications when that is about to happen so that you can cancel it.
Conclusion
Windows Update MiniTool is a handy portable tool for scheduling, postponing, or managing windows updates before they happen so that you have more freedom and control over them.