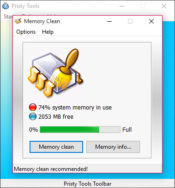 Managing a PC is not at all a simple task. It involves cleaning up the computer's drive to ensure enough space for more storage, deleting the unnecessary files, using various features, and keeping it up to date for better performance.
All these activities require the time and effort of the users. But the users of Pristy Tools can manage all these functions without needing much time.
There are seven different features provided by the application organized properly with a colorful interface. Although all the features provide you with improved management opportunities, using three of these features can make your life easy.
These include Web Assistant, the System Powerless, and the PC Detector.
Web assistant helps you get all the browser-related work done by providing all the browsers at your disposal. To know more about this feature, you can approach the help section, where a newsletter can highlight this feature's important aspects and work.
System Powerless function can help you schedule important tasks like rebooting the computer and adjust shutdown timings. Additionally, the file wipeout feature can permanently delete the files that you don't require anymore. You won't have to fear the recovery of these files in any possible way, as it makes sure that the files are permanently deleted.
With the other features available, you can configure the application settings to make it work better.
Overall, the features of Pristy Tools ensure that you get all the tools necessary to handle your computer in an efficient and time-saving manner.