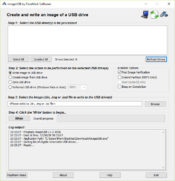 ImageUSB is a smart utility that allows you to write images across multiple USB drives. It writes the ISO, BIN, and IMG files to USB disks in just a few steps.
Simplifying USB Image Writing
It will be possible to save ImageUSB to your USB device. It will enable you to use it on any computer without installing anything.
You will see that this tool won't create any new registry entries and will work well without any issues.
Efficient and User-Friendly Performance
The first step is to select the target USB drive. You will need to make the necessary adjustments, and the procedure can easily be initialized by clicking a button. You can quickly view the log details during this time, and you will like that very much.
You should also know that this tool will carry out a job in a reasonable amount of time, and it won't use a significant amount of RAM and CPU, and this won't impact your computer's performance.
You will see that your device's performance won't be problematic because of this tool, and you won't have to come across any issues if you decide to use this one.
Conclusion
In conclusion, ImageUSB offers a user-friendly and efficient solution for writing images to multiple USB drives, ensuring smooth operation without impacting your computer's performance.