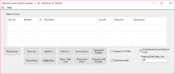 With Network Drive Control you can manage your network drives much easier than before. The ability to remove, clone, edit, add and otherwise manage it will be a huge boost to your productivity.
I found that the app is relatively user friendly and something that users would be wise to install for getting a hold on networks.
Installation
The installation process is relatively easy and fast. The application gets up and running without too much hassle. The UI is well organized. You won't have much trouble understanding how to unpack the archives or install any necessary software that goes along with it, for the most part.
The upper section allows you to manage drives with ease. The other section means you can get into additional settings.
You can configure as many drives as you need to with it. This is not always the case with similar software, so this was a relief to find out.
Assign Drives
Assigning different network drives in the right way has always been a challenge. However, this makes it streamlined. You might have a new drive that you want to add. You just do it with a few clicks using this application.
Just use the standard qualities of a new drive, and it will take care of the rest. You can even customize the name of the drive using certain fields.
Additional Functions
You will also be able to clone, edit, delete, connect, and disconnect drives. You might even want to delay the start for a certain amount of minutes.
Then again, you might want this process to be prompted by something else. All of this is possible.
Conclusion
We found Network Drive Control to be handy in a number of ways with regards to network management. It will make a fine addition to most suites of network optimization.