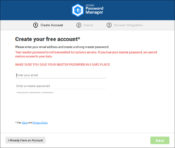 Protect and save your passwords with Cyclonis Password Manager, a simple application that can help you store your passwords and generate new ones that you can use safely.
Having many accounts on different platforms can be tough, especially when you can't remember the passwords you set for them.
At the same time, you don't want to set the same password for each site, which may lead you to be exposed when you enter these passwords.
Luckily, some great password-managing tools exist, such as Cyclonis Password Manager. This application was designed to help you save and keep your passwords secure, so you don't forget them.
Simultaneously, it can be a great tool to help you have different credentials for your accounts, as it will generate passkeys for you.
Store and Sync Passwords
One of the main advantages of Cyclonis is that you'll be able to store all of your passwords on just one account, and then you'll be able to use these passwords on all devices you might own.
These passwords will be tucked away safely thanks to 256-bit encryption that will enable you to stay sure your passwords are safe.
You can also keep them safe locally or use a cloud-based software solution to help you store your passwords.
The advantage of that approach is that you can access your passwords anywhere and anytime. That way, you should easily sign in to your accounts on different websites without thinking about your password.
Password Generator
If you don't know how to set up a pass or what password to use, you can use the password generator inside Cyclonis.
With it, you'll be able to create safe and unique passwords that will serve you well if you want variety in your passwords.
Conclusion
Cyclonis Password Manager can be a great tool to keep your passwords safe and secure and easily generate new ones.