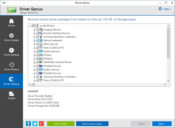 Driver Genius is an easy to use application that will help you uninstall or update your computer's drivers easily and view detailed and advanced reports of your hardware so you can get the most out of it.
Making sure your drivers are up to date and that you don't have unnecessary drivers on your computer is one of the most mundane tasks you can do, although it's also a task that needs to be done.
It will help you ensure your computer is running smoothly and has all the drivers up to date and that you're not compromising on the performance of your computer.
With Driver Genius, you'll be able to get all the latest updates for your computer and your components and delete and uninstall old or inefficient drivers.
You can also back up and restore old drivers, as well as get advanced reports on your hardware so that you're able to get the most out of it.
Backup and Restore Drivers
One of this tool's unique features is the ability to back up your drivers if you want to ensure you're safe when trying new drivers. It is an impressive feature seen with apps such as this one, although it can be massively helpful for making ensuring
You can instruct the tool to automatically scan your computer and find drivers you want to back up. You can then select to back them up and save them to a ZIP file, which can serve you well later on if you want to preserve space and make sure your drivers are waiting for you somewhere safely.
That also allows you to restore your drivers even if something goes wrong on your computer as you update them.
And that's also a fantastic option when upgrading your Windows version to a newer version, for example, where you might need to install your drivers from scratch.
Conclusion
Driver Genius is an app that will help you keep your drivers up to date, back them up, and restore them when needed.