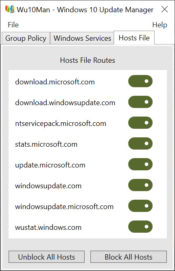 With Wu10Man, you will be able to alter the times of the Windows Updates on your Windows 10 system, as you'll have the ability to turn off automatic updates and schedule them at times that you want.
Windows Updates are welcome if you want to have the latest changes on your computer so that you're able to use the newest features inside these updates.
However, these updates might come automatically, which is a slight niggle, especially if you're in the middle of something important or if you don't want to install the update just yet.
Fortunately, you can turn off automatic updates with third-party software like Wu10Man. This application will help you disable automatic updates from happening on your system, allowing you to schedule the updates whenever you want to have them.
It allows you to configure group policies and URLs so that you're able to manage your updates better.
Disable Automatic Updates
With it, you will be able to turn off automatic updates and all the additional services that come with these updates. These include downloads of links and services that you might want to disable when an update happens.
But perhaps the biggest advantage of using this application is the ability to disable and control automatic updates on your computer. The most notable update here is the Windows 10 update, which often happens on an automated basis.
With this application, you'll be able to disable that from happening and making sure you update only when you want.
Needs Admin Rights
When you use this application, one of the key things you'll need to know is that you'll need to grant the application admin rights to make the changes. Only with these rights will it be able to edit registries where you can disable updates.
It will effectively change host files and registries so that updates don't happen automatically.
Conclusion
To conclude, Wu10Man is a popular piece of software that will turn off automatic updates from happening on your system, especially the Windows 10 update and all its additional installs and services.