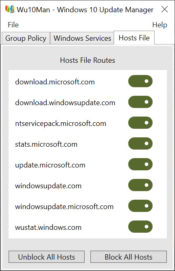 If you are fed up from the automatic updates of your Windows, then you need this application – Wu10Man, which comes with some nice features.
There are three ways which help you disable the updates of your Windows 10. These three modes include Windows Services, Windows Update Group Policy, and Host Policy. Any of these modes can be easily activated because of the easy to use interface that comes with Wu10Man.
You'll have to use the administrative rights of the Windows while using this application and for activating or deactivating the automatic update features of Windows. Once these features are adjusted, you can easily manage the updates of the Windows according to your requirements.
Wu10Man is an application that can let you manage the updates of your Windows 10 in a convenient manner.