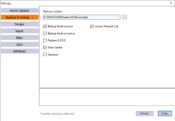 HostsCK allows you to open, view, and edit the Windows Host file to easily change and manage the list of blocked and allowed websites from one place.
The hosts file in the Windows operating system plays the role of editing and mapping hostnames to create easily read URLs from complicated IP addresses. Your configurations directly influence this file, so that it will depend on your DNS settings. If you set up that a DNS request will never leave your computer, you can easily do so. It helps you block ads, for example.
With HostsCK, editing the host tool within Windows is made easy. You don't need to change the configurations to directly see the settings and how the current DNS settings look.
You can arrange which requests are accepted and which are blocked so that you can easily ensure no unsolicited content makes its way to your computer.
Update the Host File Easily
You'll have to go through a quick installation process when you first download this app. You'll then want to launch the app as an Admin and close the service responsible for your DNS requests.
Then, you can open and edit the host file easily, as you'll be able to see the information more easily with different font colors.
In the app itself, you can see the list of blocked websites. The app gives you access to mvps.org, where you can see the blocked sites' detailed list.
From there, you can download this list and use it to update your host file. You'll be able to create and change your host file and the settings according to your needs.
Easy to Revert Settings
The great thing about this app is that it can help you block ads and unwanted sites, which is normally done by various apps and extensions. Although these extensions do so at a cost, they will take up valuable resources, and many of them.
If, at any point, you're unhappy with the changes or with the settings, you can easily revert them to the original settings.
Everything is quite easy to manage and handle with this app. Again, if you're not happy with any settings, you can easily revert the changes and use your default settings. From now on, you won't have to worry about any unwarranted sites making their way onto your screen.
You'll also be free of ads and potentially harmful websites, which can creep into your host settings.
Conclusion
HostsCK is a great application that allows you to edit and view the host file within Windows. You can also change the settings inside this file with this application easily.
You can add or remove DNS addresses that you want to block and change the settings at any time. If you're unhappy with them, you can also revert the settings easily.