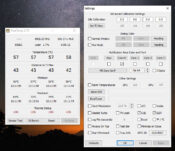 Real Temp is essential portable software for monitoring the temperature, created especially for Intel processors, Dual Core, Single Core, and Core i7.
It monitors the processor's temperature to prevent overheating, and it comes immediately and reduces the heat when it's the case. The application can shut down the computer without asking you if it identifies significant issues.
If you're a power PC user, then you'll want to make sure your computer doesn't overheat often. To do that, you'd like to measure the temperatures as often as possible, as well as put your hardware through tests to see how it performs.
Portable and Lightweight
Real Temp is designed to help you measure the hardware's temperatures, so you do have to worry if it is overheating. It's a relatively simple app when you look at it, as it has a simple interface, but it comes as a portable application.
That's great when you want to use it on different computers without having to install it first.
You'll see that it has some clear sections with a live section of temperatures in the interface. These readings tend to be accurate and are there to give you a better idea of how your computer is performing and if it is overheating or not.
You can control the performance of your CPU by testing the performance of sensors. You can "play' increasing, decreasing the temperature, scores, speed, or time until you find the best combination for your CPU,
Benchmarks and More
What is more, you'll also be able to use this application as a benchmarking tool. Namely, it's especially appropriate for testing your CPU and for putting stress on the CPU when you want to make sure it works as it should.
You can also customize the benchmark and only test parts of your CPU and increase the difficulty of the tests.
We've found this application very useful on numerous occasions as it's easy to deploy and use, and it doesn't require you to be a rocket scientist to operate it. It will also give you accurate readings, which is all you need from such a simple app.
Using Real Temp, you will calibrate the real temperature for each core of your CPU, and you can keep the benchmark very accurate. You will be able to read temperature information from all Intel Core processors.
This software relies on temperature data gathered using a 62 IR Thermometer, a very accurate one. You will have calibration settings and indicators like CPUID, APIC ID, TJMax, or MHz on display.
When the temperature is high, the alarm will be activated, and the computer will shut down to prevent overheating.
Conclusion
Real Temp is a useful application for anyone looking to measure PC CPU temperatures so that they can prevent the risk of overheating.