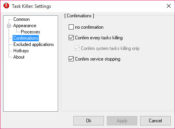 An alternative to Windows Task Manager is Task Killer. You can expect the activities performed through the Windows Task Manager to be managed in a better and quicker way.
The tray-based interface of Task Killer that remains in your toolbar, for easy access, allows you to terminate the applications that you no longer require. The friendly layout of the application and the ease with you can manage the termination of windows, particular programs or services with a few clicks of your mouse.
Customized settings for notifications about the programs can also be activated to keep yourself informed about the applications running on your computer. Additionally, you can manage the layout of the application depending on your ease. Enabling the color coding feature is one of the additions that you can use for specific programs for easy detection and management.
Additionally, Task Killer can also allow you to enable hotkeys for certain operations, making the management of your frequently used applications a lot easier than it would have been using the Windows Task Manager.