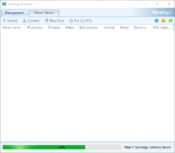 If you have Synology disk stations in your network, you must utilize this tool for easy and optimal management. Synology Assistant helps users when they have multiple computers connected via LAN.
The application initiates the scan of the entire computer. After scanning, all the detected devices would fit in the appropriate lists.
This application also works from the tray. You can minimize the Synology Assistant, and it would still perform the functions for which it has been designed, thus providing the users with an easy option to manage the programs and applications on which they are working.
It has a multi-tabbed interface providing you with many features. You can view all the details of the ongoing processes, print, or search the relevant data from the disk station. Each is managed through a separate tab.
The presence of a multi-featured tab helps to organize your data better and thus making the application easy to use.
The Management tab lets you map the drive or search for relevant information. The resource monitor tab will enable you to have a complete look at the information about disk stations.
The printer device tab, the third tab, allows you to get a print of all the relevant data to share with other users or save it for future reference.
Synology Assistant can help you better manage Synology disk stations and provide you with the capacity to monitor the resources.