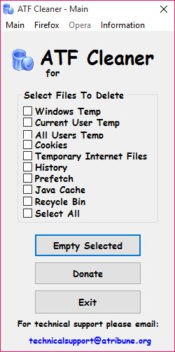 ATF Cleaner will help you to clean any temporary directories. Removing temporary files and cleaning your history or emptying the Recycle Bin needs to be done from time to time. Be sure that your operating system will work fine and doesn`t suffer from the slowdown syndrome and this is why this tool will help you.
It is better to choose software to do all of these procedures, and you will see that the whole cleaning aspect can easily be carried out by the ATF Cleaner, which will clean your PC quickly.
It has been created with a goal in mind which is a simple and also efficient way of cleaning the clutter from the computer. You shouldn`t have to worry that this app will need to be installed because it isn`t the case. It will be easier to pick the files you want to delete from the main window, and you can choose between Windows temporary files, temporary Internet files and also Java cache.
ATF Cleaner is an excellent choice for any user because it will provide aid for web browsers and all you have to do will be to hit the Empty Select button, and you will be ready to go.
You need to run the application as a system administrator to be able to perform the cleaning of your device. This utility will come in handy and shouldn`t be missing from any computer. It can also be stored on a removable device because it doesn`t need to be installed on your computer.