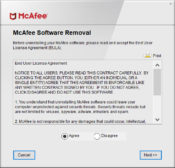 McAfee Removal Tool (MCPR) is an application that can help you in clearing your computer of all McAfee files. Even the remaining files, half-installed and fully functional files of the program, can be deleted with this application's help.
With this app, you can expect all the McAfee security application files, including the registries' changes, to be deleted. The registry files and leftover files cannot be usually deleted with the other application, so you need a specialized application to fulfill your purpose.
It is a portable and lightweight tool, which can work even without installation and can be stored and run through a flash drive. The process of initiating the McAfee removal tool is in the form of a Wizard that requires you to fulfill one of the requirements to go to the next window.
Captcha code for security validation will be needed before you can initiate the removal of files to be sure that you need to remove the security software from your computer.
The use is simple, not requiring you to do anything except following the wizard instructions, and you can get your task done.
McAfee Removal Tool (MCPR) is a tool to remove all the McAfee files from your computer, whether in the registry of your computer or the hard drive.