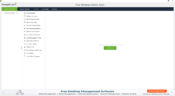 With Windows Admin Tools, you can have the facility of controlling your computer administratively via remote access. Apart from remote access, a comprehensive set of tools and features are part of this application.
It is easy to install, but to use it, you'll have to configure the stings of the application. Some of the things that you need to manage while using the application include the number of computers that you want to register in the network, insertion of the domain name, and the name of BIOS.
Without providing these details to the application, you won't connect your computers.
Similarly, the application interface is easy to use even though it contains several features for the users. The desktop presents a clean and arranged look, making it possible for the users to explore those features and employ them for better functioning.
Additionally, separate tabs for the computers and networks are also available. You can access the particular computers or the entire network from those tabs.
Remote Task Manager, Wake on LAN, Remote Command Prompt, Shutdown/Restart, Join/Unjoin is some of the facilities that Windows Admin Tools provide to the users. You can manage all such functions without putting in the individual effort for each task.
Additionally, you can also get the information related to Currently Logged on User, Hard Disk Space Monitor, Network Share Browser, System Inventory, Software Inventory, so that you can perform the managing function in a better way.
Although using the application and managing the various functions through it is quite easy, if you find any difficulty, you can get help from the community forum, which is part of the application's features.
Through this forum, you can get a piece of good advice to resolve any issues being faced.
Windows Admin Tools provides you with remote administrative access to several computers.