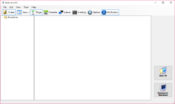 You might be used to running commands if you are a networking specialist. However, you don't need to be an expert on the command line. You may need to start or shut down your network computers remotely.
Therefore, Wake On LAN is a great alternative. It is suitable for professionals and amateurs alike. It is easy to use, yet it is powerful enough to perform a variety of features that you have come to expect if you run technology networks.
Let's take a look at what sets this apart from the traditional and manual way of doing things:
Start and Shut Down
The primary features that you should be aware of are quite simple on the surface. However, what they allow you to do are very powerful tasks. You can browse your local network.
Any computer that is on it, you can start it up or shut down remotely. Now, this is already fairly impressive. What makes it better is that you can support Ping and Listen functions.
Emergency Shutdown
If unexpected events require an emergency shutdown of your computers, you can do this with an input shutdown command.
Add multiple hosts, and the function will trigger for all of them. You can even get out of the shutdown by aborting if you want to.
Additional Options
Wake On LAN also has other options. You can export these settings to use them further. Undo or redo your actions if you want the app to do that. You can tell it to trigger upon startup.
It means you can now reset the window and the layout. If you want notifications, that is another option. The response time depends on how fast the server you have installed is.
Other features like accessing the other stations remotely, using Listen and Ping, scheduling recurring tasks, and searching LAN computers on specific IP ranges are available.
Additional Support
The amount of CPU and RAM needed does not exceed what your normal amount would be. Luckily, the application offers support in various languages.
We also found that their support team has a pretty good response time compared to what you would usually expect.
Summary
Sometimes, you are tasked with handling multiple computers on a network. Still, you cannot be there all the time. That brings up the question of how you will manage these computers effectively. There is a solution that is advantageous compared to the rest.
Wake On LAN is easy to use, has the most modern features, and lets you take control of your computer network back. For those reasons, we give it our recommendation.