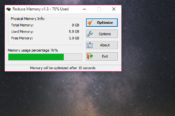 Reduce Memory is an excellent utility that optimizes the RAM usage on your computer if the user has Windows Administrator privileges. The application frees the memory from unused applications, operating system services, and programs working in the background.
Sometimes when you use your computer, you lose too much memory to processes and services that you don't even know are running. If that is the case, you might see a notable drop in the performance of your computer, which is especially problematic for older computers that don't have a lot of memory.
It is an application that will help you optimize your computer's memory and close the processes using too much of it. This way, you'll get a much better performance out of your computer without buying new components.
Reduce Memory Load
This application works by looking at which apps and services are using your memory, and it will try to eliminate the ones that are using memory needlessly. It is especially true if you're running many tasks you don't need to run, especially the services you are not currently using.
The app will work automatically for the most part, and you should immediately see a notable improvement in your computer's performance.
It is a great thing, especially if you have an older computer and don't want to improve it just yet, because you'll see great results at the cost of this small app.
Portable and Lightweight
Another advantage that makes this app such an appealing option is its portable nature. You won't even have to install it to get going because you can launch it from your computer and see the difference in performance.
You can also take it anywhere you might go with you without having to install it.
Conclusion
To conclude, Reduce Memory is a great option if you want to reduce the load on your memory and improve the performance of your PC.