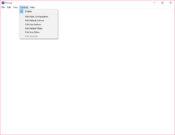 Protect your internet privacy with Privoxy, a web proxy service that will help you make sure you stay safe online and get rid of potential dangers that might be looking to harm your computer.
When you want to protect your computer from potential online issues, you might consider using a proxy.
And one of the best ones is Privoxy, a web proxy tool that will enable you to browse the internet safely and without bother and protect yourself from potentially harmful websites.
Block Items To Protect Your Privacy
One of the best things about privacy is that it allows you to block certain websites and make them impossible to access by any user on your computer or network.
It will help you ensure that none of your users will access a website that can potentially harm you and your network, which might happen on various websites.
To do this, you'll have a complete set of rules you can use to block certain websites. You can decide which URLs you don't want to access, but you can also use the rules inside.
For instance, you can only block certain pages of a website or create rules yourself, although that needs a bit more work and knowledge.
Complex Syntax
You need to know about this application because it's not easy for beginners. You'll have to learn the syntax before using this application to its fullest potential.
And that can be a big task, especially considering this application can have complex syntax. Although once you learn it, you'll see that there's a potential to do big things with it.
Conclusion
Privoxy is, all in all, a great tool to use to ensure your online privacy and security, provided that you know how to use the syntax.
That might be a bit challenging at first, but it will provide you with some great capabilities once you get used to it.