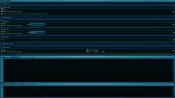 InputDaddy is a straightforward application that allows you to create scripts that will automate your work process and simplify your work. Some tasks that you might do daily might be tedious and time-consuming.
This utility takes the grind out of your work by automating tasks such as defragmentation, data cleaning, and opening programs you need.
If you want to automate these tasks and create scripts containing keystrokes, then InputDaddy is an excellent choice.
Create Scripts or Use Pre-Made Scripts
When you decompress the file archive, you can use the application immediately – no installation is required. You might be stunned by the old-school interface, but it certainly doesn't mean it's not user-friendly. In the window itself, you'll have access to almost everything you need to complete your scripts.
For creating new scripts, you can access the upper area of the program, where you have several tools for script creation. You can add script commands, and you will be able to use script execution commands in the lower area of the app.
The app is also very flexible, allowing you to use pre-made scripts downloaded or received from another IT expert. If you're using the application for pre-existing scripts, you can easily remove the interface and only use the pre-made scripts.
However, learning how to make scripts is also possible, as there is much useful information to do just that.
Conclusion
InputDaddy can become a valuable tool for your average working day. It allows you to create or add pre-existing scripts that will automate some important tasks you do throughout the day.
You can also easily create new scripts and learn how to make them, as there's a wealth of information on how to do that.