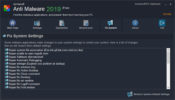 To get an extra layer of security, you can use Asmwsoft Anti Malware, which is compatible with antivirus and provides a check for the running processes of your computer. All the features provided by the application are neatly organized on dark-colored them to make it look visually good.
Even the non-technical users can use this utility and get a maximum advantage; this is because of its easy to manage settings.
Asmwsoft Anti Malware provides three different scanning modes. These include a quick scan, smart scan, and custom scan. Each of these modes enables the users to perform a different type of analysis on the computer for detecting any threats or malware in the system.
With this application running, you do not have to worry about the usage of resources of your system, compatibility issues or excessive time for scanning.
Asmwsoft Anti Malware can provide you with an added value solution to keep your computer protected from attacks of viruses.