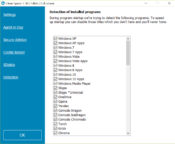 With Clean Space, you'll be able to make more space on your computer available as you can remove temporary files, unused files and apps, registry items, logs, and other items that are not in use.
When you use a computer and download or install apps regularly, you might notice a lot of space wasted by items such as temporary files or registry entries.
These will not be used once you're done with the app installed, resulting in wasted precious disk space for these unneeded items.
With this app, you'll be able to find the files you're not using, delete them, and clean them up easily. The app will detect the junk on your computer, and you can select which items you want to delete.
Easy and Lightweight
Clean Space is easy to work with, even if you're not experienced. To get started, you'll have to install the app, which should be simple enough to complete if you follow the steps.
The app's interface is lightweight, as it is not cluttered with unneeded items, so you will easily find what you need.
Remove Junk from Your Computer
The main purpose of this app is to clean up your computer for good and eliminate unneeded or unwanted items. With this feature, you'll be able to make up quite a lot of space on your computer, which can be valuable if you're looking to install new apps or get the files you need on your computer instead of those you don't need.
Additionally, your system's privacy is compromised because of these data files. It is the solution if you need to delete all these unnecessary files.
Using Clean Space, recovery of any lost file is possible, so you can easily access it if you have deleted something wrong during the cleaning process. However, the application uses security algorithms to take care of your essential files and ensure that the useless files are deleted without your permission.
To get started with the app, you'll want to specify the search scope upon which the app will find the junk files you're not using.
After that, you'll see a list of files the app has found, and you'll have the option of selecting only the files you want to delete for deletion.
Conclusion
Clean Space is a good option if you want to save up space on your computer. It will clean temporary files and items you don't need to help you save space.