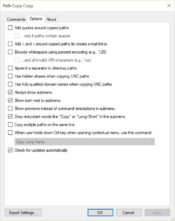 If you want to copy the names of your files and folders without clicking here and there multiple times, then you can easily use Path Copy Copy. You can quickly change the name of your files without putting in any extra effort of opening more than one window or copying the names manually.
The easy to use interface of the application and the ability to manage the copying path with the right click of the mouse are some of the features of this application.
When it comes to copying, you can set the app to copy anything as the file name as you want. You can get the folder name, location of the parent folder, UNC directory, and the internet path. Some of the formats that this application copy for you include Copy Long Parent Folder Path, -Copy UNIX Path, -Copy Short Path and many others. You can even add some quotes, or encode the white spaces for naming the file or folder you like.
Overall, Path Copy Copy can reduce your work burden by copying specific makes for your files and folders from various formats that are supported by the application.