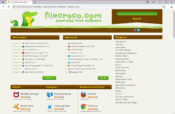 If you're looking for an alternative browser option, you can opt for the Yandex Browser, an intuitive browser designed by Yandex, the Russian version of Google Chrome. Today, you'll find many different browsers that offer you various functions to enjoy the wonders of the internet.
And you'll need these features to have a satisfying experience, and once you get used to them, you can't switch to another platform.
With the Yandex Browser, you'll get many user-friendly features that will give you a great browsing experience.
The browser comes with the turbo mode, which will speed up your internet searches and focus on performance while offering you more advanced functions that you won't find in different browsers.
Modern Interface
The main theme of the browser is quite similar to Bing. That's because the browser uses Bing's browser engine. The interface is quite modern and appealing, making it easy to see which site you're on, how many tabs you have open, and much more.
Once you install the browser, you'll see that you'll be greeted by a friendly window telling you what you can do next with the browser.
It's meant to be a short introduction to using the browser. You can also navigate and see the settings and some browser options, such as security, personalization, and more.
Fast Browser with Helpful Features
Most of the features you'll find inside this browser are already present in some other browsers, while others are unique. For instance, you'll use the turbo mode to focus more on performance and ensure the searches are as quick as possible.
At the same time, it will eat more of your resources, too.
Other settings include blocking or allowing cookies, translation into different languages, customization options, and more.
Conclusion
Yandex Browser is an intuitive and modern browser that provides a satisfactory browsing experience thanks to its many settings.