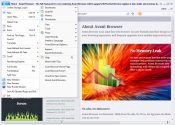 Avant Browser is a fast, reliable and user-friendly web browser, designed to constantly improve browsing experience through frequent updates. It integrates a download multi-threaded accelerator and manager in an ads free interface. Multi-processing ensures a smooth, crash-free experience. In this way, if one tab is not responding, the others will keep going.
Memory leaks won't be a problem, as this browser is engineered to have the lightest memory usage possible. A video sniffer lets users download any video one may encounter on the internet. The interface is customizable, multiple tabs are easy manageable through Split View and Detached on Top feature, which lets you watch videos and chat while working on other apps.
Private browsing, automatic login, bookmark encryption, gestures and several other options make this browser a perfect choice. Additionally, it can be optimized for slow internet connections.
Avant Browser features and benefits:
Multi-processing design offers you a crash-free internet browsing experience and high reliability
Lowest memory usage web browser

Download accelerator
Designed to work in Private Mode for complete privacy

No memory leaks
Access your bookmarks with Avant Online Bookmarks Service from anywhere