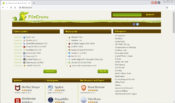 UR Browser is software that customizes your Internet browsing. While you surf the web, it makes it safer with features that are both free and fast. There are an ad blocker and a VPN already built into it. This is aimed at enhancing privacy.
Highlights
One of the main things we noticed is that the app will scan files for viruses automatically. This is helpful to know just in case you stumble onto some sites that are not what you thought they were.
Suspicious Site Alerts
Another security feature is the alert about suspicious sites. Sometimes, sites will induce you to give up personal information in an attempt to phish or scam. This software helps prevent that, which we believe to be a very useful feature.
Strong Encryption
Encryption is an important topic for many people these days. You will be glad to know that RSA keys used with UR have 2048 bits. This is particularly useful for live chat, like videos with team members or clients.
HTTPS
It is clear that HTTPS is the new web standard and much more secure. We were relieved to see that UR forces sites to use HTTPS whenever possible. This is a better level of protection than some other methods used.
Blocking of Third Party Cookies
Sometimes, you simply don't want to be tracked. Who does, after all? Therefore, UR Browser will block cookies that follow you around.
VPN
With a built-in VPN, you won't need to switch one on to be anonymous.
Extra Features for Private Browsing
You can actually continue to surf the web normally while having specific private tabs open. This is a very cool feature that we haven't seen on other similar browsers like Firefox or Chrome. And to make private browsing even more convenient, you have the ability to whitelist sites so that UR will automatically open those up in private tabs the next time around.
Overall Assessment
Privacy and anonymity are important concepts in the modern-day web world. We think having a browser like UR is useful for making private browsing more convenient and accessible without needing to be a security expert.